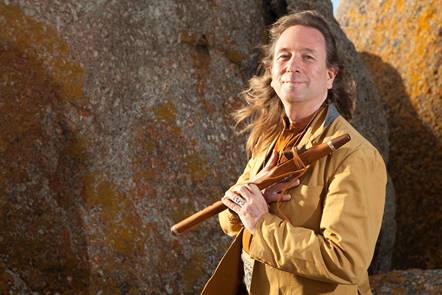 International Sound Healer Kailash Kokopelli is a leading pioneer in exploring the healing effect of sound since the early 90s. The multi-instrumentalist and sound medicine man is performing worldwide and has touched millions of people with his healing sounds.
As a director of the Scandinavian school of healing arts he has been running the SEISMER Sanctuary of the European Institute of Sound Medicine Education and Research for the last 10 years.
Kokopelli is also a producer of Sacred World Music as well as a teacher of healing chi movements and overtone chanting.
SOUND MEDICINE Treatment
Exclusive 3hrs Group Sound Medicine Treatment by Kailash Kokopelli to cleanse the chakras and auric field
from negative attachments, entities, crystallizations in the physical, emotional, mental and astral bodies and energy centers.
It is a form of sound surgery where cysts, tumors, cancers and other forms of unhealthy accumulation and toxins can be cleansed,
released and neutralized. The Sound Medicine also has a positive effect to decalcify the pineal gland and stimulate in general
vital force to flow and activate dormant circuits for the client to tap into true power of purpose and remember original assignment.
This treatment helps to empower self-healing processes and tap into source energy where all guidance, purpose and healing is found.
This sound healing experience offers sacred soundscapes to journey to source within where all healing power can be found.
A yoga of song, sound and silence. An inner journey on soundscapes of the Medicine Drum, Spirit Chants, Native American Flute
and Didgeridoo. Not just Chakras and Auric field purification but 72.000 Energy channels aka Nadis are being cleansed
for the pranic life force to flow strengthening health and vitality.
Clarity of body mind and spirit through the power of sound medicine.
SPIRIT TV SOUTH AFRICA on Kailash Kokopelli Sound Healing:
Logistics and value of individual treatments:
Time and date changes can be made up to 3 days before the session.
If there should be a cancelation I request a 50% cancelation fee from the value of the treatment within 3 days before and 100% compensation up to 24hr before the session.
Individual sound medicine treatments of 90min to max 2 hrs including consultation
are made accessible equally to all clients at an international fee of 200€ which is the 5th of my minimum for a concert.
Additional 50€ are requested from 30-60minutes exceeding the 90min-2hr session.
International general fee for a concert/ group sound healing from 45min to 3hrs is 15